Inviato da: audizioninews il 9/5/2017 22:41:22
386 letture
ASIA Zhejiang Symphony Orchestra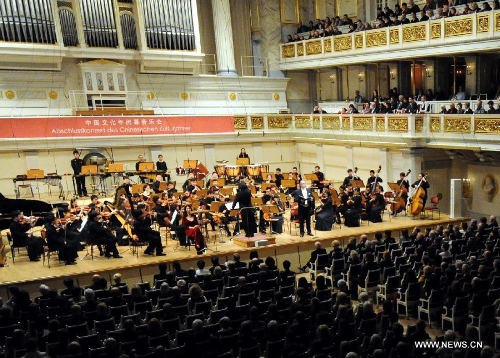 • primi violini di fila • secondi violini di fila • viole • violoncelli • Associate Principal fagotto • Principal Trombone • Principal Tuba • Principal arpa • Principal Timpani/ percussioni di fila
Edizioni Practica Musicae ha cessato l'attività e la pubblicazione del newsletter AUDIZIONI news;
dall'1 gennaio 2018 l'attività di ricerca e pubblicazione di informazioni si svolge solo su base volontaria;
se ritieni questo sito utile fai una donazione libera


ti sarà inviato settimanalmente, nella tua email, l'elenco delle nuove audizioni segnalate
Qualifications and Requirements:
1. Applicants should be passionate and professional;
2. Applicants should have bachelor's degree or above;
3. Applicants should speak fluent English; Applicants should be in good health.
Application:
1. Visit this page to download the application form and complete it;
2. Send your materials to auditionapplications@zjso.org , with the subject in the following form: "Your Name + The Position You Apply For". The materials we require from you are as follows:
1) Application form;
2) Education certificates;
3) Video of solo performance;
4) Honor certificates (if any).
IV. Audition:
1. Date: 15 June 2017 (please wait for further notice);
2. City: Hangzhou, China
3. Content: Please download PDF files to find:
1) Solo (please choose from the solo repertoires assigned by ZJSO);
2) Orchestra excerpt.
V. Related Matters:
1. The employed will sign a contract with a half-year probation period with ZJSO. Applicants whose nationality is China can be listed in government affiliated institutions staff upon evaluation;
2. Monthly salary for a Principal is at least RMB 12,000 Yuan (pre-tax); monthly salary for an Assistant Principal is at least RMB 10,000 Yuan (pre-tax); salary for a player at least RMB 8,000 Yuan (pre-tax);
3. All ZJSO members enjoy paid holiday (at least 30 days)
4.ZJSO will provide free accommodation for musicians.
5. ZJSO will cover employees' social insurances or commercial insurances in law.
Working with the Zhejiang Symphony Orchestra
As a musician of the Zhejiang Symphony Orchestra you will be playing in China's premier symphony orchestra and with some of Chia's best musicians and leading musicians from around the world.
We are committed to sharing our passion for great music and so regularly play outside our main venues in Hangzhou, in order to reach the broader community. Internationally we have played and will continue to play in the great halls and festivals across Europe, Asia and America.
Our musicians enjoy competitive terms and conditions of employment. For more information, contact auditionapplications@zjso.org
Content For Download:
attachment A: Application Form
attachment B: Orchestral Excerpts
1 FL&PICC 2 OB&C-ING 3 CL&CL-B 4 FG&C-FG 5 COR 6 TRP7 TRB&B-TRB 8 TUBA 9 TIM&PER 10 HAPR 11 VI 12 VA 13 VC 14 CB
Own Choice:
1.One movement of a concerto from the period of classical, including cadenzas
2.One movement of a concerto or major work from the 19th or 20th century. Please prepare any cadenzas, although they may not be heard.